SEO

is a tool for sharing good content

Start with good content, refine and strengthen your text and media, polish and perfect your keywords and all the other words too. Then add SEO.

An SEO plan encompasses the entire process of preparing content. Here is one such plan that visually indicates the role each member of web development team plays in the SEO process.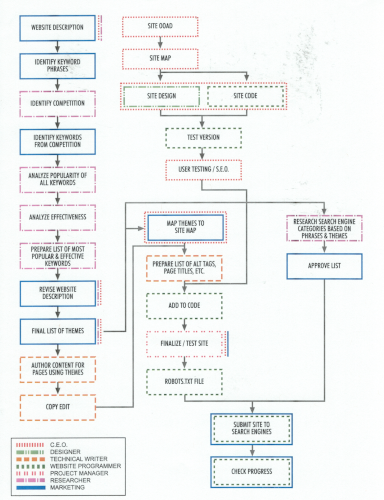 Friendly design and good UI can only get you so far. Content is value because quality content - text, and media interests your audience. You must consider the long-term component in a web site. Sometimes they remain in place for a decade, or longer.
Continuity and
Existing Content
Existing text and media is equally important to maintain. No one likes a 404 or information not found message. Make a plan for your content, consider the long-term gains of providing a content repository for your audience.
Whether your 'content' is business intelligence, a repository of industry knowledge, speciailized information, or a few blocks of text, there is value in preserving existing materials. Working with many associations, organizations, and businesses, I developed a range of solutions for ensuring the longevity of content.
Forms are Content
too
Forms are everywhere. Think of how many forms you interact with on a daily, monthly, or yearly basis?
Are forms a core component of your content? If so, you understand the importance of cross-platform solutions. Paper and printable forms are still an essential tool for many people. Having made printable forms for over 24 years, I understand the importance of typography and good layout in making forms useable.
Another solution I provide is to adapt print forms to digital platforms. Web based forms and PDF forms are some possible solutions. Web applications such as 'Admin Areas' are full of forms.
Cross-Platform
Solutions
Your content should be available across all platforms.
Websites underwent a transformation, a movement called responsive design gave the web a better way to view web based content across all devices. What I truly appreciate about responsive design is that content has moved to the forefront. People using phones and tablets want to view content. Designers need to make that content adaptable to all devices.
As technology evolves, the way you present your content should evolve. My favourite projects are to evolve website designs into cross-platform solutions. Adapting an existing site is a challenge from both a design and development perspective but is so rewarding.
What I like most about the ideas that are coming forth is the return of content to the forefront. I have always said create some content and then add the design, without content you do not have anything worth visiting. With the rise of mobile devices and usage of these devices to access information, I think it is crucial to start making Web sites that can deliver usable content across all devices.
Great Content
Connect
Make your content easy to access and easy to find and more people will want to see your content.
The beauty of Internet is the ability to streamline. Streamline, condense, simplify. Truly effective content should provide singularity, both in function and in form.
Does your site work on mobile devices? If not, maybe we should talk .